Dave and I were married on January 30, 1999. Today would have been our 18th wedding anniversary. Dave and I would always forget to celebrate our anniversary! Something always came up where we were busy and would just space it. We'd both remember days later. We didn't really make a big deal that we forgot and we'd just do a little something later when we did remember.
January 30, 2007 was the first wedding anniversary I remembered before the date arrived. But I didn't have my husband around to celebrate with….because he died five months earlier.
For about two years after Dave died, I set up a memorial site at the location of the accident. We based the set up and decorations on different holidays and special occasions. I remember how windy it was out there near Sugar Beach and how I didn't really like being out there near the busy road with people looking at me as they drove by. It was a location that was a little difficult, a little dangerous to get to with traffic flying around the bend, but I had to do this for me and for Sierra. It was a way for us to pay our respects and to remember Dave.
For our wedding anniversary coming up in 2007, I needed to come up with something cool and special. My thought was a GIANT long stem red rose. But, we lived in Maui. Where would I find a giant long stem red rose??? I don't think this is something that would be easy to find anywhere for that matter. I looked at every store I could think of and of course was unable to find one. So, I decided to make one. I've always loved making things anyway and this would be good project for me. I used mailing tubes (for the stem), felt fabric, wire and busted out my handy pink mini glue gun (which I still have!). Both Sierra and I were pretty happy with how it turned out.
Sierra and I made the trek out to the site and figured out a way to connect it to the tree. Creating things was part of my therapy and I was happy to be able to display this single long stem red rose for Dave to celebrate what would have been our 8th anniversary. We kept it up through Valentine's Day and also added a few other things. We also had a container there for notes from people that were walking by on the beach and friends who went to visit the site.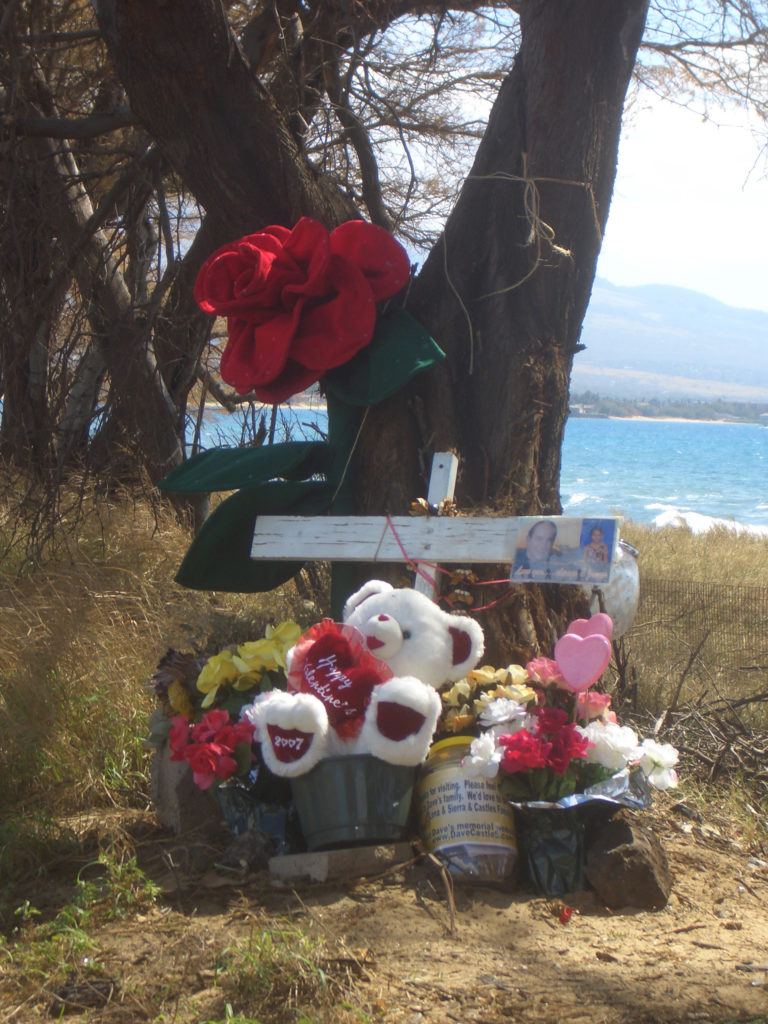 Currently there is just a single cross on the tree at the site on North Kihei Road in Maui. Sierra and I continue to celebrate special occasions and remember special memories with Dave and talk about him all the time. Tonight, to remember Dave on our 18th anniversary, I wanted to share this past memory of our special red rose.
Happy Anniversary Dave…I remembered 🙂