Ok so this is like Stalker Mom status but whatever! Lol! I still think this is a trip and that Dave must be helping his girl out 🙂 Check it out….
This move from Maui to California has been super hectic and exhausting, but after living in a hotel with all our stuff, we finally got to move in to our apartment home on August 7. Yay!!
On our 2nd day in the apartment, we finally got a little break and Sierra and I went to the pool/hot tub to chill out a bit. I was very much looking forward to some much needed relax time.
We had planned to get there earlier, but got tied up waiting for AT&T to install Internet service for us so we got there much later, around 6:45pm. The delay turned out to be a good thing! After around 1/2 hour just before we were getting ready to leave, two teen girls entered the pool area. As soon as I saw them I thought, "Yes! New friends for Sierra!"
Long story short, I got out of the hot tub and left the pool area to give them space. In just a few minutes, they were chatting and exchanging Instagram info! I peeked out of the workout room window next to the pool area, sneaked around like a weirdo and snapped these pics 🙂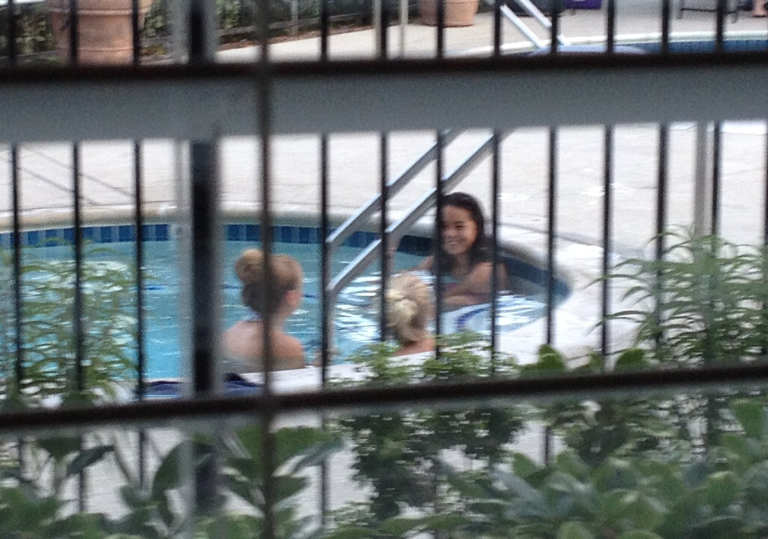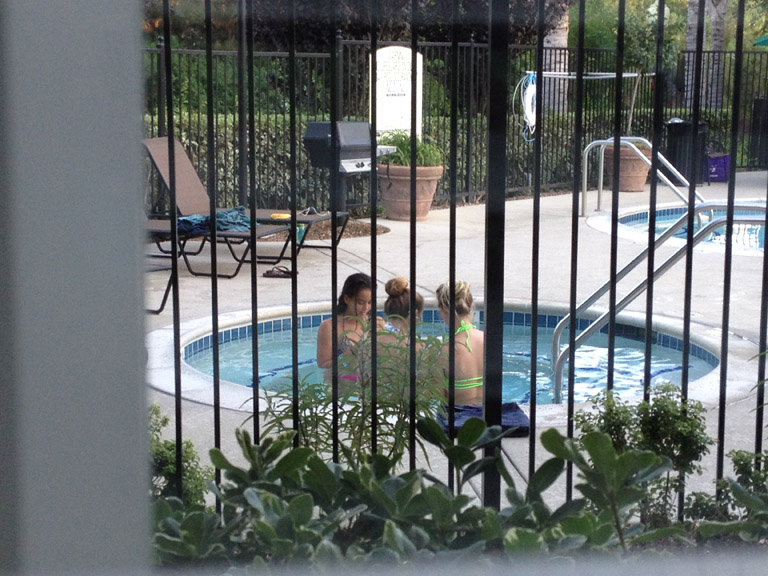 So….that's all pretty cool and I can't tell you how thrilled I was that this was happening! But, THIS is the trippy part!! Turns out one of the girls lives in our apartment complex and the other is moving in soon. In addition, both are going to be freshman at the same high school Sierra will be attending, both are going to be taking Spanish as Sierra is, so they may be in the same class AND one is a soccer player! The other plays volleyball so she's an athlete too. Awesome!!
Sierra has lots of friends thru her Arsenal soccer teammates, but they all live pretty far from us. One of the things I REALLY wanted to happen when we moved to California, was for Sierra to make friends who were in our area and would be going to her new school before school started. I thought, "How can I make that happen?!"  Well…I guess we lucked out!! What are the odds of this happening?! We chose a small apartment complex in an area of about 80,000 residents and on the 2nd day here Sierra makes 2 new friends, same age, same interests, living in the same apartment complex!!
Monday, August 11, 2014, marks eight years since we lost Dave. However, I believe he's around us wherever we are whether Maui, California or anywhere else. He's doing his thing to help his little girl out and I know he'll keep watching out for her…
Eight years….can't believe its been that long. She's doing great, Dave. Thanks for being here for us.
xoxo